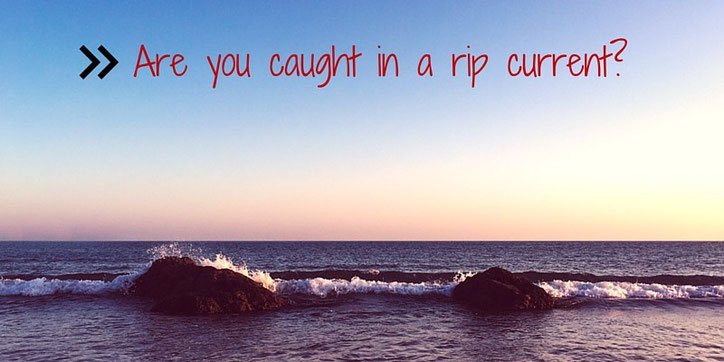 Hey Soulshiners! Today I wanted to talk about a humbling experience I had that taught me an important life lesson. There are 3 things I have always been good at: singing, swimming & being an intuitive. However, there are of course things I am not the best at & it has taken me a long time to realize that is ok. 
As a teenager I did competitive swimming. One day I was swimming in the ocean & I got caught in a rip current. I started swimming my hardest, doing everything I knew you were supposed to do & no matter how hard I tried…the rip current had control over my swimming. 
It ended up thrashing me against the jetty & I had to be saved by a lifeguard. As someone who lived for swimming at the time, it was humiliating! I was all scraped up & had to be pulled out of the ocean by a lifeguard. However, it was a very humbling experience.  
What did this teach me? 
If you believe that being the best means doing it all, perfectly, all the time then you will end up being caught in a rip current. Just because you are amazing at creating the art you love doesn't mean you have to be the best at selling, blogging, finances, singing, swimming or anything else! 
When you are doing what you are good at, the universe will provide. That's why it is incredibly important to realize what you are good at & what you need a team for! 
We all need a team, a tribe or a family. Whatever you want to call it, having people around you to support you & help you is incredibly important. This might be the family you were given at birth, but it could also be a family or tribe you build throughout your journey! 
No matter what your skills are & what your non-skills are…it's ok! 
Use your skills to your advantage & use your non-skills to grow a team of supporters that can lift you up & help you succeed! 
If this message vibes well with you and you want to become a fellow Soulshiner, sign up HERE to stay in touch. Much love!